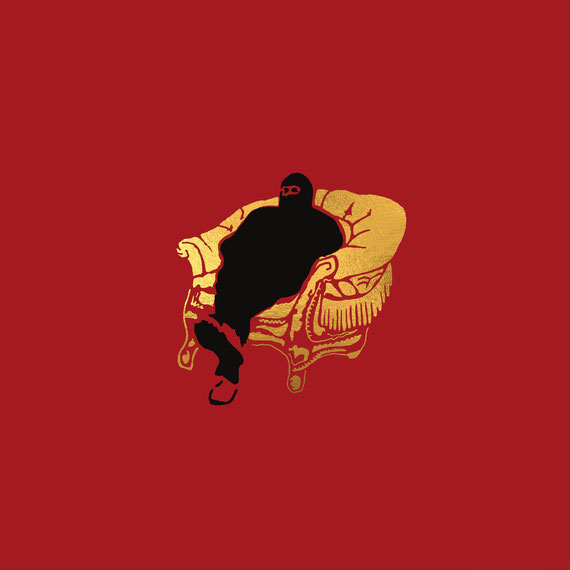 Our debut album will soon come out! We release it together with Red Wig, Degelite and La Loutre Par Les Cornes. Beware!
A
1. Azbest (Asbestos) [3:19]
2. Hymn do zera (The Anthem to Zero) [8:43]
3. Kryzys wieloryba (Whale's Crisis) [7:41]

B
1. Choroby to podróże ubogich (Diseases are the Journeys of the Poor) [1:10]
2. Polska Szkoła Filmowa (Polish Film School) [8:20]
3. Przyszłość oraz styl (Future and Style)                    
  - Przyszłość (The Future) [5:13]
  - Styl (The Style) [2:50]
4. Raport nie na temat (Off the Subject Report) [7:59]
"Regresarabas" pogrywa z formułą koncept-albumu. Muzykę cechuje karkołomne połączenie myślenia orkiestrowego z garażowym z ducha otwarciem na przypadek. Płyta trwa 45 minut, jak godzina lekcyjna, i tak jak ona wymaga koncentracji. Osiem samodzielnych utworów wchodzi tu ze sobą w różnego rodzaju powinowactwa, cytuje się i przegląda w sobie. Wielowątkowe i polirytmiczne kompozycje ulegają erozji, jakby zespół chciał zaburzyć jednokierunkowość odbioru. Album zawiera jedną piosenkę z gościnnym udziałem wokalistki, skandującej "Hymn do zera", o tym jak jest tu i teraz.

Tytuł to fonetyczne przeinaczenie portugalskiego zwrotu "powrót do początku", potraktowanego jak coś w stylu zaklęcia.


Przepych are:
Łukasz Plata - drums, drum pad
Jakub Majchrzak - bass, guitar, sampler
Special guest: Ewa Głowacka - vocal

Samples contributions by: Marcin Ciupidro (marimba), Hubert Kostkiewicz (dub mixing desk), Kuba Kurek (trumpet), Piotr Łyszkiewicz (contra-alto and B♭clarinets, tenor sax solo), Krzysztof Tokarczyk (B♭ clarinet) and Catarina Santos (voice).

Recorded by Piotr Semiras and Artur Soszyński at Transistor Studio in Wrocław, 2017. All samples and additional overdubs recorded by the band.
Mixed by Claudio La Rosa at Dalek Studio in Messina, 2018. Mastered by Piotr Zabrodzki at Contrabanda Music Studios in Warszawa, 2018. The album was produced by the band.

"Hymn do zera" was inspired by the leading of Lena Wertmuller's "Pasqualino Settebelezze".

Artwork and design by Catarina Santos and Ewa Głowacka.